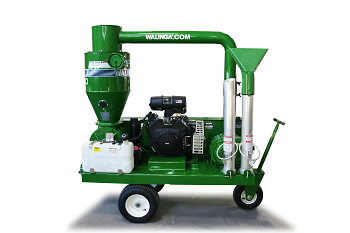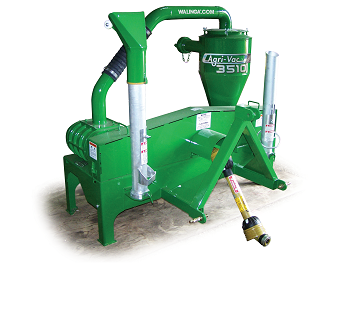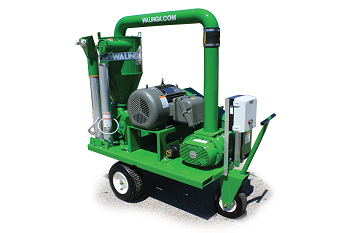 Standard Accessories

One 4" suction nozzle
One 4" x 12' rubber suction hose
One 4" x 12' stainless steel discharge hose
One 4" discharge deflector

Optional Accessories

2" & 3" rubber suction hose
Discharge cyclone
Remote shut off
Additional hose lengths and styles
The 3510 AGRIVAC, equipped with a Walinga 510SRT blower, can move up to 10 tonnes/hour. Measuring less than 100cm wide, it can be used in the tightest corners to perform transfer, cleanup or loading operations. The 3510 moves grain on a cushion of air which maintains grain and seed quality.
The 3510 petrol, diesel and electric models are mounted on a formed steel, three wheeled cart, with fork-lift pockets making it very simple to move into the smallest corner of your storage area.
Available in efi petrol or diesel, electric or pto (with 3 point hitch), it is the ideal unit for someone who needs a versatile and portable grain handling unit. 
Specifications
| | |
| --- | --- |
| Weight | 630 kgs |
| Height | 195 cm |
| Width | 100cm |
| Length | 230 cm |
| Wheels | 3 pneumatic (1 on swivel) |
| Frame | Formed steel with forklift pockets |
| Motor/Power | 26.5hp efi petrol (standard) |
| Receiver | Rotatable one piece unit - single inlet |
| Inlet | 4" daffin coupling with plug |
| Outlet | 4" daffin coupling with plug |