Serving Australia's Milling & Grain Industry for over 35 years
Profitability in today's competitive markets means having quality product in the right place at the right time. We understand that this is important to you so we make it our priority to help. Customvac provides a wide range of pneumatic handling equipment, grain cleaners, silo aeration components and aeration controllers for the Farmer and Grain Handler. We also manufacture Walinga bulk feed transport equipment and centralised vacuum systems for Bulk Feed Manufacturers and the Milling Industry.
When storing grain, your success depends on using the best available information and methods to protect your stored grain investment. Our staff are here to help and advise the best practices for your situation.  With years of practical, real world experience, we are able to understand the difficulties you face. We strive to provide effective customised solutions for all situations.
In the Milling and Stock Food Industries, plant hygiene underpins Quality and Safety Assurance. Regular cleaning over multiple levels presents many obstacles to Workplace Health and Safety, it also consumes a lot of valuable man hours.  Customvac is here to help provide solutions to aid in spillage control and general cleaning activities.
Delivering stock food in bulk presents many opportunities to reduce expenses but also presents as many problems. Customvac can build our compartmentalised stock food bodies and trailers to suit your exact requirements. Multiple different rations on a single truck delivering to different customers, all at the touch of a button. Now that is smart, safe and economical.
Background
Customvac Australia started in 1983 and initially marketed a range of pneumatic grain and feed handling equipment within Australia. Since then Customvac has expanded its market to include grain management equipment such as silo aeration and grain cleaners. With a client base not only throughout Australia but also in New Zealand, Papua New Guinea and South East Asia.
After many years in the business the founders of Customvac Australia decided to sell the business and retire. In an unusual move, Walinga Inc showed incredible faith in both its products and the Australian market by purchasing the company and bringing us closer into their fold. Walinga Australia, still trading as Customvac Australia, retains an Australian director and is still operated as an Australian based company, although now we are able to benefit from the added support of our much larger parent company. For more information about Walinga Inc and what it stands for, please head across to www.walinga.com .
Company Aim
Customvac Australia aims to be a reliable and responsive marketer of grain and feed related equipment. The company seeks to maintain a reputation for excellence in sales and service.
Philosophy
Success in today's world markets means having reliable information and equipment to meet individual market demands. Customvac Australia is a market-focused company, not a manufacturer. This allows Customvac staff to focus on determining and satisfying individual client needs.
Customvac Staff
Customvac currently employ staff at three locations. For Queensland and NSW we have our head office which is based in Toowoomba, Queensland. From here we handle all enquiries from North Queensland, down through NSW. Our Victorian based representative covers Victoria and across to SA. Our Western Australian representative is based in Perth.
Customvac Australia
Customvac has been operating for over 30 years and has extensive experience in Pneumatic Grain Transfer Machines, Feed Transport equipment, and Controlled Grain Aeration systems across Australia, New Zealand & the Asia-Pacific region. The business has broad-based experience and equipment systems to suit applications in the Milling, Feed Transport, Bulk Grains and Materials Handling and Grain Storage sectors.
Customvac's expertise, equipment & services includes:
Walinga Airlock & Blower Systems for mobile & fixed plant
Walinga Ultra-Lite Hopper Trailers & Truck Mounted Bins for on-road feed transport
Blower Truck/Trailer Fit-outs & Kits to suit feed & granular materials
Pneumatic Suction/Blower Conveyors for grain & bulk commodities
Central-Vac Clean-up Systems for mills & factories
Blow-only Transfer Units for silo filling
Stored Grain Quality Management (Controlled Aeration)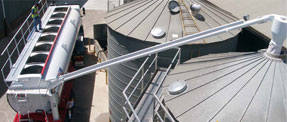 Bulk stock-feed delivery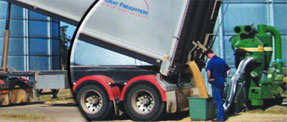 Pneumatic grain transfer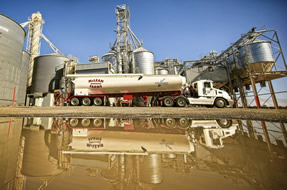 Custom-built to your requirements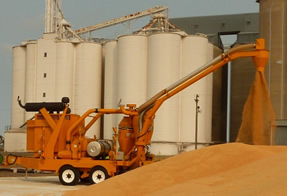 Self-contained pneumatic grain transfer